Nominate an Ethical Business for The ETHIE Award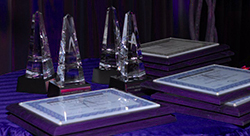 Public and privately owned commercial businesses and non profit organizations with a minimum of 15 employees are eligible for The ETHIE Award nomination. Clients, customers, colleagues, vendors, and employees can nominate Rochester-area organizations they think are worthy of an ETHIE. Organizations may also self nominate.
Upon receipt of your nomination, Elevate Rochester will notify the nominated organization. Once nominated, the organization must elect to participate in the ETHIE Award process by completing a separate questionnaire. You may nominate more than one organization, and may be contacted if it is necessary to verify certain nomination information.