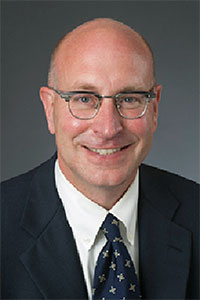 Associate Professor
School of Business Administration & Economics
The College at Brockport
350 New Campus Drive
Brockport, NY 14420
585.395.5530 | [email protected]
John Keiser is an Associate Professor and the Chair of the Department of Business Administration & Economics at the College at Brockport; State University of New York. He has been with the college since 2001 and taught courses in the management area including organizational behavior, human resources management, and business, government, & society, the course that covers ethics for business administration majors.
His publications include research in career patterns, corporate governance, nonprofit management, ethics, human resource management, and organizational theory.
Dr. Keiser earned his bachelor's degree in Management Science from The Pennsylvania State University and his doctorate in Organizational Behavior from the University of Illinois. Prior to his appointment at Brockport, he was a member of the faculty of the University of Massachusetts at Amherst. He has taught internationally, and in 2008, he was designated an International Fellow at the University of Debrecen in Hungary.
Ethics Competency Areas
Values
Leadership
Organizational
Non-profit
Publications
"Business Ethics Education in Former Soviet Bloc Countries," Journal of Business and Economics, Vol. 4, No. 11, 2013, pp. 1073-1079.
"Business Ethics and Ethics Education in American Business Programs." Competitio, Vol. 7, No. 2, 2008, pp. 195-200.
Chief Executives from 1960 – 1989: A Trend toward Professionalization," Journal of Leadership and Organizational Studies, Vol. 10, No. 3, 2004, pp. 52 – 68.
"Board of Directors of the Hospitality and Tourism Industries: An Exploratory Analysis of Composition and Interlocks," Journal of Hospitality and Tourism Research, Vol. 26, No. 2, 2002, pp. 155 – 174.
"Exploratory Demand Analysis for a Part-time or Executive Masters Degree in Hospitality Management," Journal of Hospitality and Tourism Education, Vol. 12, No. 1, 2000, pp. 33 – 38.
"Nonprofit Management in the Hospitality and Tourism Industry," Journal of Hospitality and Tourism Education, Vol. 12, No. 3, 2000, pp. 16 – 20.
"Hospitality and Tourism: A Rhetorical Analysis and Conceptual Framework for Identifying Industry Meanings," Journal of Hospitality and Tourism Research, Vol. 22, No. 2, 1998, pp. 115 – 128.
"Managing the Human Element in Mergers and Acquisitions," The Hospitality Financial Management Review, Winter 1997, Vol. 9, No. 4.